Save this page to your DEL.ICIO.US account and TAG it there
Vance's Diving Portal | Homepage: http://www.vancestevens.com
UAE and Oman Dive Sites | Vance's old logbook and Vance's Dive bLogs | UAE and Oman Diving Directory | Courses | FrogLegsScubaClub
SCUBA activities in Abu Dhabi and East Coast Dibba and Musandam, UAE
Vance Stevens, PADI Open Water Scuba Instructor #64181

"Plan your dive, dive your plan"
Open WaterTraining bookmarks: FAQs about training and safety | Costs and What if I have an ear problem? | getting STARTED (get the crewpack) | Getting Wet (pool and ocean training) | Paperwork prior to certification | How to fill in your logbooks | Refresher and courses after beginning o/w
Where to catch the boat | Safety concerns | Sample proposal for o/w training | Weather and Ecology
---
Navigate elsewhere on this page
FAQs about the PADI Open Water dive course:
General information
I'm an independent PADI instructor with a full time job in education. I do what I can to promote diving and environmental awareness locally. When I receive general inquiries about the Open Water course, I send this letter in reply:, updated in May 2012:
I teach diving in my spare time (evenings and weekends). I maintain several web references pertaining to diving, particularly in the UAE:

Advantages of working with me would be

Expertise and experience - diving since 1966;
instructor since 1993
One-on-one attention, and maximum flexibility.

These days I'm doing almost all my courses in one weekend through Nomad Ocean Adventure <== Click on the bookmark
I have given the course in Abu Dhabi. Some people take weeks or even months to pace the course. It's up to you :-)
There's more information below. If you wish to arrange training, or if I can help with more information, don't hesitate to contact me.
Navigate elsewhere on this page
What does it cost?
I'll teach o/w divers who will pay my fee plus cover expenses incurred in their training. Just to give you an idea, here are some of the costs involved, in UAE dirhams (3.65 per $, 2012).
Not all students incur all these costs (doubling up on pool sessions or using shallow water off beach instead of pool, for example)
Also, there is an option available in UAE/Oman (May 2012) via Nomad Ocean Adventure wherein the student does the PADI eLearning in advance http://www.padi.com/scuba/scuba-diving-guide/start-scuba-diving/learn-to-scuba-dive-online/default.aspx (about $130 usd)
The students pays only 1800 dirhams fixed price for a two-day course. We meet in Dibba, Oman on Thu night, you do your first pool training there, eat and sleep, more pool training Friday morning, 2 ocean dives Friday, finish pool training Friday/Sat evening/morning, and complete the final o/w dives Saturday. This price includes everything, including my fee, plus 4 ocean dives, all equipment needed in ocean and pool, use of pool, 2 night's accommodation and 6 meals, and certification. If interested, ask me about it.
Otherwise, here is an itemization of expenses
250 - Your manual in a crew-pack (includes log book, tables)
As of 2009, PADI requires that each diver in training purchase his/her own copy of the relevant PADI training manual. PADI has specified that each diver should have a personal copy for reference after the course is completed, and since reproducing it would be a violation of copyright, this copy should be a duly purchased one.
100 - Pic envelope to apply for certification card from PADI (similar cost for certification online)
In 2010 we started seeing these included in some Crew Packs purchased, with little increase in price from before. So check when you buy a Crew Pack if the PIC card is included.
700 - cost of 4 dives, at the rate of 350 for two dives, fully equipped, at Freestyle Divers in Dibba, one of the best shallow-water dive spots in the UAE (cost of diving can vary depending on where you choose to dive)
100 - cost of refilling tanks used at 4 pool sessions (assuming some doubling up of modules in a single session)
300 - estimated cost of entries to Aljazeera pool <http://en.wikipedia.org/wiki/Al-Jazira_Club, geo links at this location: http://tinyurl.com/4bnsqc> and at http://www.vancestevens.com/uae_ddir.htm#aljazira_pool. Estimated price assumes 2 or 3 visits to the pool, at 75 per student and 50 for instructor prorated among students present. It is also possible to do some pool training in Dibba at no cost to dive center patrons.
100-200 - estimated cost of tanks and equipment used at 4 pool sessions (sometimes equipment rentals not necessary)
800 - instructor's fee in partial compensation for an amount of time equivalent to about a work-week (although it's actually a fun-week, you'll see it's not that easy for the instructor!). I request half the fee at start of training please, settle the rest on certification.
-----------
2200+ - approximate total (total of above expenses at high end; gear rental for pool might not be necessary, for example. This is comparable with what other dive centers in UAE charge for dive courses (in 2010) where you are often limited to diving wherever that dive center takes you; whereas we are free to vary our diving anywhere in the UAE or Oman)
Navigate elsewhere on this page
How long does the course take?
Lately I have been using Nomad Ocean Adventure wherein the student does the PADI eLearning in advance (about $130 usd) and then pays only 1800 dirhams fixed price for a two-day course. We meet in Dibba, Oman on Thu night, you do your first pool training there, eat and sleep, more pool training Friday morning, 2 ocean dives Friday, finish pool training Friday/Sat evening/morning, and complete the final o/w dives Saturday. This price includes everything, including my fee, plus 4 ocean dives, all equipment needed in ocean and pool, use of pool, 2 night's accommodation and 6 meals, and certification. If interested, ask me about it.
Some people prefer to meet once a week for academic and pool work. If you have a deadline to meet we could do it faster than that, and some prolong it more, but assuming you adhere to the once-a-week schedule you can have your PADI open water certification in about 6 weeks. If the course is taken through the hotels, some allow pool use for diving only at night. Also, it is possible to do open water dives only on weekends, so scheduling can be a problem with busy, active people involved.
Navigate elsewhere on this page
When can I start the course?
I encourage people to start whenever they like. I'll take one or more students at a time. We can accommodate trainees at all levels at any pool or academic session. So the simple answer to this question is start whenever you are ready and join others who have already started the course,or others may join you later. You'll find that being in the pool or ocean with more advanced dive trainees will help you; as observing their training helps prepare you for when you reach their level.
Navigate elsewhere on this page
What certification do I get?
On successful completion of your course you will receive your PADI Open Water dive certificate. PADI certifies the majority of divers worldwide (55% according to http://www.padi.com/english/common/courses/faq.asp, which means that the remaining 45% are divided among the many other certifying bodies). PADI certification is recognized almost anywhere, and I can't imagine a commercial dive center where it wouldn't be honored actually. The certificate allows you to participate in diving with dive companies operating at resorts etc throughout the world as well as rent equipment and have tanks filled.
Once all requirements are complete, your instructor will give you a temporary certification card valid for 90 days from completion of your final open water dive (careful here that you don't delay completion of your paperwork too long beyond date of your final o/w dive for the course). Along with your temporary card you will receive a PADI PIC Form (your PIC or Personal ID Card will have your photo on it). Your instructor signs off on the form and you fill in your details, put a photo in it, stamp it, and mail it to PADI Ltd. in UK. Your permanent card should arrive in a few weeks. If you have any doubt at any stage of this process PADI have an excellent track record of expediting and resolving difficulties with their instructors in email; they almost always respond within one or two working days.
This can also be done electronically; in fact in 2012 the paper PIC forms are getting harder to find.
Navigate elsewhere on this page
What if I have an ear problem?
My friend and former student Jay Fortin has done some research on this, which he shared with me.
Navigate elsewhere on this page
OK! Let's get started!
Once you decide to start a course, contact me. I will let you know how to pay the fees and get the 'crew pack' or box containing a book and a green folder. (If you do the eLearning, then these materials are online, and you don't have to purchase the Crew Pack or watch the DVD in addition to that. If you do the course through Nomad Ocean Adventure, all you need to do is the eLearning, complete the medical form, and turn up in Dibba Musandam for your course)
You need to pick up a PADI manual which comes in the 'crew pack' pictured here (2008)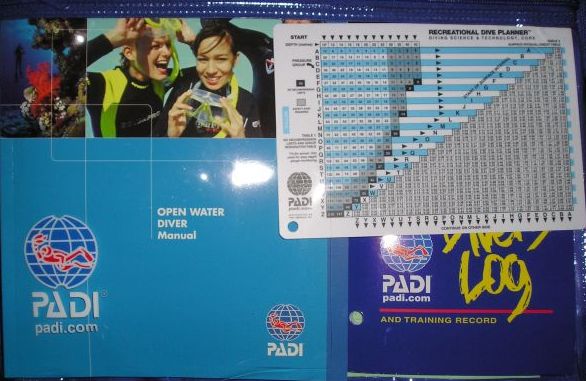 On the folder inside the Crew Pack (used to be green, lately they are coming white) are three forms which must be filled out. One is a medical form. When you fill out the form, if any answer is 'yes' you must have a doctor countersign; otherwise just complete and sign the form (find a copy here: http://prosites-vstevens.homestead.com/files/divelogs/PADI_Medic_form2006.pdf). The other two forms are PADI liability release and statement of safe diving practices, which must also be signed. All forms are to be signed and handed over to your instructor before we get wet.
Before any academic session you must view the DVD for that Module. Allow 45 minutes to an hour for this. It is required viewing prior to any academic session. The DVD cover looks similar to the picture at left.

So before meeting your instructor for the first lesson, arrange to view the Module 1 portion of the Padi O/W DVD. As you progress through the course, you'll need to watch the remaining 4 video segments prior to each academic session for that module (in addition to reading the book and answering the knowledge reviews at the end of each chapter - all knowledge reviews must be completed, signed, and handed in to your instructor before he can give you your certification.).

In 2010 or 2011 the DVD has been included in the PADI crew pack; ask about it if making a purchase.
Navigate elsewhere on this page
What do I need to do for the first meeting?
Before meeting the instructor first time, prepare the following:
If you've done the eLearning then you need to bring a printout of the certificate you receive on completion of the course.
fill out and sign the three forms; have a doctor countersign the medical form if necessary
http://prosites-vstevens.homestead.com/files/divelogs/PADI_Medic_form2006.pdf
read Module One in the book and complete the Knowedge Review at the end of the chapter.
before (or during) our first meeting view the Module One portion of the DVD available from the instructor or at the dive training center. Allow 45 minutes for this.
During our first meeting
Give the instructor the green/white folder (on which you have signed the three forms)
Your instructor needs to retain a signed copy of your Module One Knowedge Review (and the remaining 4 KR's after that), either removed from your book or photocopied and signed (not necessary if you've done the eLearning)
I'll explain anything you haven't quite grasped. A thorough understanding of the physiological effects of air volume and density at different depths and pressures is essential.
I'll test your understanding of the concepts with a simple ten question multiple choice quiz (if you've done the eLearning you take a short quiz to ascertain that you've completed the entire program)
I'll demonstrate how the equipment is assembled and disassembled.
I'll explain what we'll do when we meet for your first pool session.
Navigate elsewhere on this page
Let's get wet!
After that you will be ready to join us in the pool. Often we leave this for a second meeting. For Modules 2 and 3 we can sometimes do the academic and pool sessions on the same day. Most people can take the Module 2 and 3 quizzes after watching the DVD and reading through the book. I usually explain the dive tables before my students sit for the Module 4 exam, so we might need an hour for that. After Module 5 is the Final Exam taking about an hour to complete
Incidentally, you can do your first ocean dive after you have completed your Module One academic and pool sessions. Your second ocean dive can be done only after you have completed Module 3 in the pool. Your final two ocean dives can be done only after completion of all academic and pool training.
For more detailed information about the course click here
What do we do during an open water training pool session?
Note: prior to academic training, trainees must watch DVD for each module undertaken and should bring completed Knowledge Reviews to class (or show proof of eLearning)
Open Water Dive #1 (max 12 m) is an acclimitization dive, no skills assessed on this dive.
Skills for Open Water Dive #2: (max 12 m)
Descend using visual reference
Establish neutral buoyancy at botton with fin pivot using low pressure inflator
Partially flood & clear mask
Fully flood & clear mask
Recover regulator
Secure and breath from alt. air source (stationary)
Participate in alt. air source ascent
Skills for Open Water Dive #3: (max 18 m)
Descend 6 to 9 meters using visual reference
Establish neutral buoyancy at botton with fin pivot using oral inflation
Fully flood & clear mask
Optional buddy breathe (stationary)
Optional: participate in buddy breathe ascent
Skills for Open Water Dive #4: (max 18 m)
Descend using no reference
Hover
Remove & replace mask
List of flexible skills: Tired diver tow and cramp removal / snorkel & reg exchange / surface compass heading / remove & replace weights and bcd at surface / compass navigation under water / CESA
Navigate elsewhere on this page
What do I have to do to complete the course?
In a nutshell:
Leave your signed medical form, liability release, and statement of safe diving practices on file with your instructor.
Either complete the eLearning and provide a copy of your certificate of completion to your instructor, OR

Watch all five portions of the PADI video (on DVD, available for viewing at the dive training center)
Completely fill out, sign that you understand, and hand in to the instructor the five Knowledge Reviews, one at the end of each Module in the PADI Open Water Manual
Pass 4 ten-question multiple choice quizzes and a 50-question final exam

Swim 200 meters freestyle, with no aids or floatation (or 300 meters with only fins, mask and snorkel)
Maintain yourself treading water without floatation for 10 minutes without support or touching sides or bottom of pool
Complete and satisfy all performance requirements of the five pool sessions
Complete and satisfy all performance requirements of the four open water 'ocean' dives
Log all four dives in your log book and have each signed by your instructor
Sign the form in your instructor's records that says you've done all that, instructor countersigns
For certification, EITHER

Submit digital photo, exact mailing address, and first name middle initial last name you want on your card, instructor arranges for electronic processing, and you get a temporary certificate good for 90 days in your email
Instructor fills out his part of a paper PIC envelope.

You get a temporary certificate good for 90 days on the spot
Send in your photo in the PIC envelope signed by your instructor (positive identification, with photo on your dive card). When PADI receives this they'll process your certification card and return it to you at the address you give on the envelope.
Navigate elsewhere on this page
End-of-course paperwork
This is important, but some students delay the paperwork after the fun part of the course (the diving!) has been completed. Please be aware that, before the instructor can certify you, you need to complete and sign the following items. The instructor will keep all but the last with his or her records of your participation in the course (you retain your logbook of course):
The signed medical form, liability release, and statement of safe diving practices that you submitted before any training was conducted.
Your signed certificate of completion of eLearning OR

your signature at the bottom of any answer key completed for each end-of-module and PADI Final Exam for the course, where it says you understand all questions answered and have had explained to you any that you missed.
Your completed knowledge reviews, originals removed from the book, handed in to the instructor, and signed where it says you understand all questions answered and have had explained to you any that you missed.

Your signature on certain forms where you acknowledge that you have completed the academic, confined, and open water training for the course (your instructor will give you these to sign and then retain them with your records)
You complete your logbook, logged for each dive completed for the course, and have it signed by your instructor.
Many students ask for guidance on filling out their logbooks. If in doubt what to write in them, read the following:
Navigate elsewhere on this page
How to fill out your logbooks
Each diver on any PADI course has to fill in their logbooks for each dive and have these signed by their instructor. This is a PADI standard and must be done prior to certification for any PADI course.
LogBooks can be creative. In the past I've printed out out my writeup for the dive at http://vancesdiveblogs.blogspot.com and presented that, signed by me, to students who fail to produce their own. The theory is that you would keep these pages in a notebook somewhere and present your logbook to the next person you go diving with. So you need to write there anything that might help the next dive leader assess at a glance your level of training and experience.
For divers on the beginning and advanced o/w courses, the logbook that you got in the crew pack is designed especially for use with these two courses. The logs of your dives with me should have my signature on them (as per PADI standards). Also if you use the PADI logbook I can sign off on each portion of your course, or at least the actual dives (if you'll fill in the dates and details and have me sign those sections).
In your logs, you should record
LOGISTICS

the date of your diving
Country, city or body of water, company you dived with
particular conditions (boat/shore; day/night; sea conditions, air/water temperature)
type of wetsuit required for that water temperature / weights needed for that wetsuit

DIVE STATISTICS

depth and duration of each dive
how many dives you did
pressure group in and pressure group out for each dive
duration of surface interval between each dive

DIVE DETAILS

name of each dive location
any training conducted
who your dive buddies were
any special animals observed
underwater terrain (e.g. wall, bottom composition, type of coral if you know it, etc.)
miscellaneous interesting recollections / what you learned
In addition to recording depth and time, try to record exact clock times if you can remember them, for calculating surface intervals (this is one reason I always announce the time from my watch as we descend on any dive, helps us all to remember it). Beginning divers should work out their pressure groups so they can get a feel for what their norms and tolerances are. I have a good feel for depth and timing from long years of experience, but I still get the occasional surprise when I find I'm pushing a NDL, so it's worth carefully recording time and depth data, and checking these against the tables or calculator for each and every dive.
Also record thickness of wetsuit, amount of weight used, and water termperature to help you figure out how much weight you'll need under similar conditions in the future. Also, it's easy to forget how much weight you had months later, so be sure and write these details down.
Your instructor is happy to help you fill in your logs, but it's most convenient if you can fill in the above details and have your logbooks ready to sign as soon after the dive as possible. This MUST be done before certification, and if you've got that far in your course and diving career, congratulations!
Navigate elsewhere on this page
What does your instructor get out of this?
Considering the time and effort involved, as you will see, the instructor is clearly not in it for the money. Instructors teach in order to
maintain their training skills,
be credited with certification of divers (which can be used later for advanced instructor credentials and to increase karma in the next life),
dive for free,
enjoy spending recreation time with interesting and ecologically-minded people,
and to have the opportunity to interact with nature and to help others to appreciate and preserve it.
Instructors especially like
the natural environment,
diving for its own sake,
and other people who dive.
Navigate elsewhere on this page
Refresher course
We have many requests for refresher courses from divers who have been certified but who have let their skills lapse. A refresher course involves a pool session for which I might charge 200, including the Scuba Tune-up Guide (65 Dhs). Or if you simply want me to meet you at the pool for a refresher, cost is 100 dirhams plus pool fees. If you want to dive with me, we can conduct a brief refresher before the dive at no charge, unless you want the Scuba Tune-up Guide as well.
Navigate elsewhere on this page
What's the next course after O/W?
Rescue dive course requirements
Academic
Open Water
In addition to proof of certification in first aid and CPR in the past year:

Mod 1:Overview, Self rescue, and diver stress
Mod 2:Diving 1st aid
Mod 3:Emergency management
Mod 4:Equipment considerations
Mod 5:Final exam

Ex 1: Approach and tow tired diver
Ex 2: Approach and control panicked diver
Ex 3: Response to conscious swimmer from boat and / or shore
Ex 4: Assist distressed diver u/w and conduct Alt Air Source ascent
Ex 5: Find missing diver underwater /
Ex 6: Surface an unconscious diver
Ex 7: Unconscious diver at surface
Ex 8: Egress w/ unconscious diver
Ex 9: 1st aid for pressure related accidents
Ex 10: Response from shore or boat to an unconscious, floating diver
Ex 11: Rescue scenario 1, organize search for missing diver underwater
Ex 12: Rescue scenario 2, organize search for missing diver underwater, surface, ventilate, tow victim to boat or shore, egress, rescuscitate, treat, summon help
Navigate elsewhere on this page
Where we dive in Abu Dhabi, Khor Fakkan, Dibba, Musandam:
Here are some places we've dived recently. There's more information including links to zoomable Google maps at http://tinyurl.com/vancesdiveplans
East Coast UAE and Musandam:
Freestyle Divers, opposite Dibba Rock, competitive pricing (but now a bit higher than 350 for 2 tanks, 2 boat rides, fully equipped, and instructor dives free). The shop is well appointed and on the premises of Royal Beach Hotel, which has a pool that can be used for training, and an off license dispensary with attractive pricing pour l'apres plongé. The reef there was badly affected by Cyclone Gonu in June 2007 and again by red tide in 2008-2009 but continues to bounce back! When overnighting here, we stay in comfortable fully appointed apts in Dibba for apprx 100 per person per night, and Freestyle do occasional trips to Musandam.
Discover Nomad in Oman Dibba, family run hostel with cheerful, clean accommodation and 3 meals plus 2 tanks and boat rides all the way to Musandam, for 650 dirhams including equipment if needed, and instructor dives free.
Seven Seas for diving near Khor Fakkan, competitive prices and no charge for instructor if accompanied by 6 divers.
In Abu Dhabi:
Kathleen Russel has just started Al Mahara Dive Center for local diving plus wreck diving in the area, and offered free trips for instructors with students; more information at http://www.vancestevens.com/uae_ddir.htm#almahara and http://tinyurl.com/vancesdiveplans
Al Jazeera Diving located in Al Mina (Zayed Port area) near the fish market, tel: 971 2 6731717 (as of October 2008) Instructor is Fred de los Reyes, 971 50 5819473. I've not yet dived with them but they've offered free diving for instructors with students.
Empros - This is a liveaboard boat brought over from the Red Sea, Egypt. Day trip diving in style in Abu Dhabi as of Nov 2008, though the ship might be pressed into service elsewhere in the UAE once winter winds hit, http://www.emprosuae.com for latest information, or call Majid on 050-505-0155. They have let me dive for free when I have students. They've not been very active in 2010, have disappeared since then.
Arabian Divers: prices in 2006 were 300 per diver for boat ride to two locations, 2 tanks & weights+belt, 130 for full equipment rental. Their services are excellent but you pay a premium for what they provide (They normally charge for the instructor, but I have used them for diving around Abu Dhabi when convenient if students are willing to pay the extra cost).
Dolphin Divers charge competitive prices for their courses (but first two certifying dives used to be shore dives under the docks where Dolphin Divers was located, and two were boat dives). Diving in 2006 cost 250 per diver for boat ride to two locations, 2 tanks & weights+belt, 50 for full equipment rental, instructor is charged normal fees, and student divers are surcharged 100 dirhams or so. This just in: Dolphin Divers relocated to Emirates Palace Hotel in 2008 and were charging prices competitive with Ocean Diving Center, but I believe they have moved on from there, not sure where.
I am no longer teaching at Ocean Diving Center at the Beach Hotel Rotana in Abu Dhabi, but its Open Water courses were 2050 dirhams, complete course, all inclusive (pricing in October 2008)
Wherever you decide to dive, when discussing prices for Scuba courses, be sure get an itemized list of what is and what is not included (manual included? PIC certification card at end of course?), and verify condition of boats and equipment.
Navigate elsewhere on this page
What have we learned about diving safely in the UAE?
On the FrogLegsScubaClub list, we've been thinking about safety issues for changeable weather and sea conditions as are sometimes encountered around Abu Dhabi in the winter months - Dec 2003
Pre-dive Boat Briefing:
It is important that as many of our divers as possible become aware of and pro-active in their role in the pre-dive boat briefing. The briefing is the dive leader's responsibility in particular but everyone's business and when it comes down to it, it's everyone's responsibility to facilitate the safety of themselves and each other by reminding the dive leader if necessary to include the following points in the briefing:
Describe the site,
Consider possible hazards
Buddy divers; then suggest or negotiate, then agree on, proposed dive plans and profiles
Agree on time limits for dives (agree in advance to resurface after 50, 60, .. minutes or end all diving by a given time of day). Ensure that diving teams have means of tracking time.
Remind divers not to touch coral in particular, avoid touching anything else under water
Remind divers of buddy separation procedures (after 1 minute, surface, wait for buddy there, do not resume diving without buddy)
No diving alone. It's ok for a group of divers (two or more) to allow a diver to surface alone only if the lone diver can be seen all the way to the surface (and then only if sea conditions are mild at the surface), at which point the group (2 or more divers) may continue diving.
Establish recall procedures as part of boat briefing (usually three short revs of boat engine)
Special considerations for afternoon diving:
In case of currents causing divers to surface in unpredictable locations and vision from the boat being obscured by wave conditions and glare from sun low on horizon ...
strictly no one to remain under water last hour before sunset unless equipped for night diving (This is a PADI standard, daytime diving is allowable up until the last hour before sunset)
Suggested safety equipment on divers
This is in addition to in addition to required safety equipment such as a timing device, depth guage, pressure guage, redundant second stage or octopus ...
A compass, knife, reel with 30-50 meters of line
A whistle
Truly independent air source, i.e. redundant first stage such as spare air or pony bottle
Inflatable marker buoy (a 'sausage') preferably on a reel so it can be deployed from depth
A strobe light to attach to BCD in case the boat can't find you before nightfall
Wish list for safety equipment on boat
Safety equipment on many dive boats operating in UAE waters is typically minimal to non-existent. The boat should carry oxygen to treat diving emergencies and the following safety equipment is recommended:
| | |
| --- | --- |
| Device needed | Reason |
| Marine radio with specific instructions as to how to call the coast guard | Iin a wind at sea, a mobile telephone cannot be heard. |
| a pair of binoculars | to find divers at sea in poor conditions |
| flares and a foghorn | to signal other boats, helicopters |
| space blanket | treating hypothermia |
| oxygen on board | treating decompression sickness and other diving related accidents |
Abu Dhabi Weather: Windguru, http://www.windguru.cz/int/index.php?sc=207 - Windguru can also be searched for other parts of the east coast UAE and Oman, most reliable as of 2012
http://www.adiamet.gov.ae/forecast.htm (site unreliable in 2010, link broken in Sept 2010)
Northern Emirates: Wind and temperature forecasts for Fujairah are reported here http://www.wunderground.com/global/stations/41198.html and for the Emirates here: http://www.wunderground.com/cgi-bin/findweather/getForecast?query=United+Arab+Emirates but I have yet to find a sea state forecast.
Weather in Oman: Climactic conditions including winds and seastate for Muscat and Salalah: http://www.timesofoman.com/
As of 2012 Dibba Rock has still not recovered from when Gonu hit the East Coast UAE in June 2007. The damage is being compounded by construction and development taking place there, seriously encroaching on the marine eco-systems. In 2009 devastation was further caused by red tide which stayed in the area for 6 months and more.
For June 8/9 2007 adverse conditions due to Cyclone Gonu: http://tinyurl.com/2uet43
Aftermath: June 18, 2007 - http://www.emiratestodayonline.com reported severe destruction on reefs on East Coast, especially Dibba Rock. This article was not found Sept 17, 2010 but all other articles cited here were still available at that time.
---
For comments, suggestions, or further information on this page,
contact Vance Stevens, page author and webmaster.

Last updated: May 31, 2013 at 08:00 GMT

Copyright 2013 under Creative Commons License: http://creativecommons.org/licenses/by-sa/3.0/us/
in which you are free to share or remix this work as long as you attribute its source (this author, this page)
and share alike (under the same creative commons license cited above)
---

January 18, 2007
Mirrors: This page is available at: