Return to the Stevens Family Homepage
Return to the Stevens travel home page
Previous: Day 7: Escape to Valencia and Aruba
---
Five Days in Venezuela, December 1999
Ariba Aruba
Back to the Venezuela contents page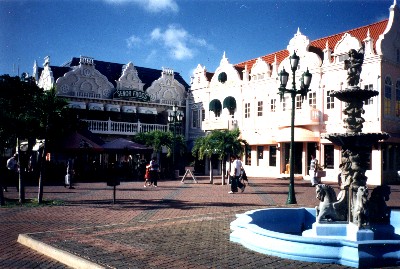 I'm in Aruba now. I'm writing this on my laptop on the veranda of a rather comfortable cottage I'm renting for $55 a night. The cottage has a two small rooms plus a kitchen and bath. It's stocked with everything for cooking, plus coffee and a coffee-maker. There's a tv with CNN and a fridge with beer. It has the look and feel of my grandmother's house, with an old gas stove and doilies on the worn furniture. It's comfortable.
The plane dropped me here well before dark on the 17th, on the evening of the day I should have arrived that morning in Tobago. The airport arrivals hall had a help desk which was able to arrange the cottage for me. The owners had got the call on their cell phone and had swung by to pick me up. They turned out to be an old but friendly German couple who had a house and unattached cottage squeezed onto a small property at 23 and 25 Rondweg between the airport and town. The lady, whose name was Christa, warned me never to dive alone, and then explained to me in great detail everything about the cottage. Finally she took took me for a much appreciated "orientation" drive into town.
First impressions of Aruba were about what you would expect. It's not a large island, probably half an hour or 45 minutes by car if driving from end to end. In the middle there are some small hills of lower than 200 meters which are supposed to have "Indian drawings" which I may or may not go out and see. The most salient features are industrial installations and shopping malls, and the huge cruise ships that call at the harbor. The cruise ships are easily the tallest most impressively massive structures on Aruba. Off the harbor is a tourist center brightly lit with neon that tries to present Aruba as part Netherlands Antilles, part holiday cruise center, and part shopping mall, and succeeds to varying degrees at all three. The tourist facilities are about what you would expect for a port of call for huge cruise ships and include a few casinos, lots of places to eat for a variety of prices, shops selling jewelry and the latest in designer "duty free" items, and even a cyber-cafe charging an outrageous $12 an hour for Internet access (again, ten times what it cost in Venezuela).
My driveabout orientation included a glimpse of this town center by night plus a bead on the nearest groceries and Chinese takeaway to where I was staying. I had expressed an interest in Internet and so Christa dropped me by the library a short walk from their house. On discovery that it was open for only another 45 min. and would be closed all weekend, I hopped out there, managed to squeeze online, sent email home, and walked back. Price of Internet use at the library is only about $3.50 an hour.
I stopped by the Chinese on my way home. Christa had mentioned it was a hangout for locals but that I could get food and drink and bring it back to the cottage. I had a Guiness while waiting for my food to be prepared. I asked one of the locals if the stool next to him was taken. He said some guy was sitting there who just went out to move his car. "Big guy or little guy?" I asked as I sat down on the stool. The local was amused. "He's kinda short," he said. When the guy returned, turned out to be an old fella. I got up and gave him his stool back and went down to stand at the end of the bar where there was a guy named Miguel who was well on his way but seemed pleased to be talking to me. He ordered me a second Guiness on his tab. He told me if I wanted to stay there, just live there in Aruba, I was welcome. Not quite as gracious as the people in Maidugurai Nigeria who offered me a house and a wife if I would stay there with them back in the 70's, but still, a nice gesture to make me feel welcome. When my food came I ordered Miquel a Polar, his brand, and walked back to the cottage, just 100 meters away. The weather was balmy, and it felt great to be able to walk around at night without having to ojo la calle.
I slept great with 2 a/cs going and awoke only briefly to the cock crows in the morning. Finally, an alarm I'd forgot to switch off got me up at 7, which was probably a good thing considering I needed to get back to work on my plane tickets. The pattern for openings in Aruba appeared to be 8 to maybe noon on Saturday, with a lot of non-retail establishments shutting down the entire weekend, Saturday and Sunday. This was Saturday, by the way.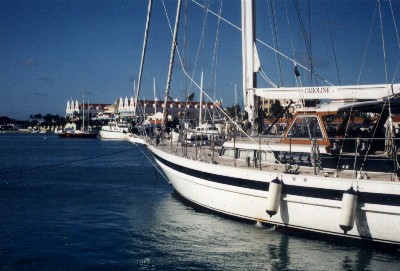 There were several options for getting around Aruba. I had eschewed car rental, convenient but unnecessarily expensive. There was a bus that ran every half hour or so to the terminal near the harbor in town. I could get into town from Dakota, as my suburb was called, and from town get out to the tourist beaches on the west coast of the island. Another option was to walk everywhere, and yet another, my choice, was to run.
I won't bore the reader with details of getting a plane ticket for Houston or Miami. Everyone who landed there from the crisis in Venezuela wanted to go to the states as soon as possible it seemed. All had arrived unexpectedly the same way I did, and few had reservations. Getting a ticket or even a booking was a matter of lining up at individual airlines ticket windows. On Saturday the travel agents were closed and there was nowhere to get an overview of what flights were going where unless one of the agents happened to be forthcoming with that information. As in Valencia, my BWIA ticket was no good here, since there was no one to endorse it. Each line I stood in cost me anywhere from half an hour to an hour, and I had to stand in several before I finally found there were some business class seats available on Air Aruba on the 23rd to Miami. My connection time in Miami was only an hour and a half, but it might work. It was almost 3 in the afternoon before I got out of the airport with a ticket to Miami in my pocket. (Airline counters at the airport were open 7 days a week).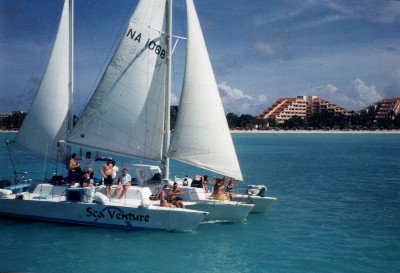 I jogged back to the cottage and had a shower. Then I jogged into town, about 15 minutes and booked a dive at a dive shop for next morning. I continued jogging out to the beaches on the far west of the island. That was a much longer way, but the beaches were white sand, uncrowded between hotels, and at the dozen or more hotels, there were bars on piers with happy hours. I needed to relax, and I wound up at a pier with a bar on it with Rolling Stones wafting from speakers somewhere and settled into a hammock. People weren't using the hammocks, so some of the tourists came up to take my picture and pose around me. I managed to get the waitress to bring me three Grolsch beers at happy hour prices ($2) just under the happy hour deadline at 5:00. By then I was mellowed nicely, but there was still daylight left and a sunset to go so I extracted myself from my hammock to find the pier with the next happy hour. I found one opposite the Red Sail dive shop. Here I had the bartender prepare two peach margueritas for the price of one and I drank them slowly, savoring each flake of crushed ice, as the sun dropped in a yellow ball into the Caribbean. It had been a rough week.
Unfortunately, that was pretty much it for Aruba. There wasn't a lot to see or do there. Diving could consume huge chunks of the day, but I wasn't impressed with the diving all that much, and even less so with at least one of the dive operators. Some dives were excellent but my very last one was less interesting than diving in Abu Dhabi (not known for its scintillating dive sites). See my log for details. I soon got bored with the beaches, even at happy hour.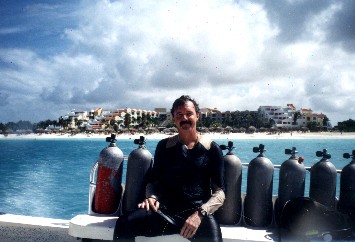 On the up side, Aruba was a small place, easy to get around. Besides jogging, there were also buses. They ran once or maybe twice an hour (I never figured it out actually), and they could get you the long distance up the west side hotels. The route ran with the beach on one side, not all that impressive if it wasn't your first time to see a beach (a lot of it obscured by hotels) and with businesses such as supermarkets and American chain stores on the other. There seemed to be things going on in the hotels, or at least, there were loudspeakers blaring and crowds around. Tourists were everywhere of course. I met some on holiday from places as far away as Boston, Vancouver .. even someone from Florence, Italy (disappointed, he was, in search of the ideal beach; I told him of the ones in Oman).
One evening I was walking in the town and I heard music with a reggae lilt. Thinking it was a live performance, I tracked it to a nondescript building down a side road. A sign on the building proclaimed it an Eglise, and inside were a crowd of all black people swaying and jiving under a corrogated roof with their arms overhead singing gospel to the accompanyment of an electric guitarist doing rhythm while a lady shouted out the refrains to be repeated in unison by the audience. Those nearest the door welcomed me inside and steered me to a seat. Once the preaching started in over-amplified staccato, I was surprised to discern that it was in French. So these were obviously Haitiens. I confirmed his when a lady approached and asked me in French what language I spoke. I told her I spoke French, so she explained to me that it was the part of the service where visitors to the church got up and gave their "salutations" to the audience and she asked if I would mind doing that. I told her that I was just a tourist in off the streets and that I preferred to remain where I was. I mean, I was still wearing the shorts I'd been diving in that afternoon and everyone else was dressed their best. But she said, just tell the people that you're a tourist, where you are from, why you came to the service. Meanwhile, others from the audience had begun taking the microphone and were receiving heartfelt welcomes from the congregation. It seemed like such a friendly crowd in the end I couldn't resist. When the preacher shouted into the microphone asking if there were any others present who wanted to give their salutations, and the lady gave me the nod, I went to the front and took the mic from the preacher and turned to address the expectant Haitien faces. Quiet descended on the crowd as I said in French simply that I was a tourist from the United States and that I had happened by because I had been attracted by the music. I said that I had been to Haiti 25 years ago on my honeymoon. I told them that I was very glad to meet them, and I wished them all a bonne noel. At that they broke spontaneously into loud clapping and whatever variations on hallelujah there are in French, and the preacher took the mic from me and shouted into it a translation in Patois of what I had just said, he's a tourist from the Unitied States, and we welcome him, etc., and this provoked a second round of enthusiastic response. I had by then returned to my seat where I remained enthralled in the performance until the volume of the microphone became to much for my eardrums, and I left into the night, shaking hands with smiling parishioners on my way out.
Just down the block I found a Columbian restaurant and I had dinner there, shifting now into Spanish to place my order (I can speak Spanish in restaurants, remember?). I had a wholesome meal of beans, rice, and plantain with a variety of meats, including a deliciously spiced sausage. But I screwed up on the wine order, commanding roso instead of rojo, or probably more correctly, tinto. Despite that, linguistically if not gastronomically, it was probably my most interesting evening in Aruba.
One real bright spot on Aruba was the modest little cottage I had taken. It was next to the house owned by long-time residents Christa and Efrain Irausquin. They went out of their way to make me feel at home. Without being intrusive, Christa stopped by daily to see how I was doing, and on a day when she learned that I hadn't gone diving, she offered to take me 8 or 10 kilometers away to Ayo Indian Rock Drawings so I could run back from there and climb the "Haystack" on the way, a 170 meter mountain with 590 concrete steps to the top with one of the best views of the island possible from any natural feature in Abuba.
The reason I hadn't gone diving that day was that I had overslept. I had put pillows on my head to drown out the roosters and hadn't heard my alarms. The people at the dive shop thought it was funny. Most of their clients would have just ordered a wakeup call from the front desk. I could have done something like that because Christal was out watering the plants every morning at 7 o'clock.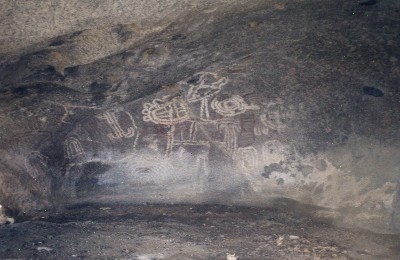 When Christal found I wasn't diving that day, she offered to take me out to the place where the "Indian" drawings were. Having studied my habits, she thought she would drop me and I would enjoy the run back. She left me at a place where the stones had piled into natural caves which had sheltered people in prehistoric times (prehistoric is a matter of perspective; in Hawaii, prehistoric was before 1798, when the first people who could leave a history we could read arrived). I had a look around the area and then jogged over to the haystack. There was a set of over 500 steps leading to the top (I counted them but forgot to record the figure). There were nice views all around the island from there.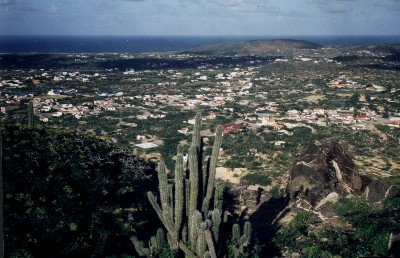 When I was ready to leave Aruba, Christal was ready to take me to the airport. It was just 15 minutes away in her car, but it was part of the welcome that came with the cottage. (In the picture below, that's the "Haystack" in the background.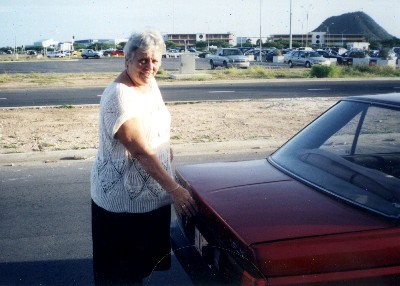 At the airport, I just couldn't shake away from the floods in Venezuela. Relief flights were using Aruba airspace and showing up on radar unexpectedly. This was creating problems with scheduled flights. At my expected time of departure, the Aruba Air plane had not even arrived from Miami. It came along about half an hour later, and the flight was an hour and a half late departing. That was about the time of my connection in Miami, so I arrived there at about the time that plane would be leaving. The Aruba Air people had said they would be radioing ahead that passengers would be arriving late and that they'd help us with connections, but of course this was just pie in the sky. I got through customs at Miami airport having missed my onward flight, and there was no one there from Aruba Air to take any responsibility for the consequences of the delay.
I got my bags and got through customs quickly enough and was finally walking on concrete mixed in the USA. I found the Air Tran counter two concourses over pretty easily. If my plane had been within half an hour of its arrival time I would have made the connection. Air Tran was not at all busy. There was only one person ahead of me in the line, but at least there was an agent there. She turned out to be a sweet little lady from Columbia. She was supposed to charge me $50 for failing to make my flight, but she said because I was going home for Christmas she'd waive it just this once. "But try and make your flight next time," she scolded. The next bit of good news was that she actually had flights that would get me to Houston that day, barely, about midnight. It was a few hours later than I'd expected, but I was on my way home to meet my wife and two sons at their grandparents' houses for Christmas, so the adventure was panning out in the end.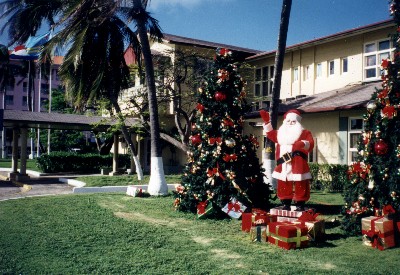 Back to the Venezuela contents page
---
Use your browser's BACK button

to return to a previous page

For comments, suggestions, or further information on this page, contact Vance Stevens, page author and webmaster.
Last updated: December 23, 1999
---