The Stevens family homepage is at http://www.geocities.com/Athens/Olympus/4631/
Next visit, start at http://www.netword.com, and type the netword: "Vance Stevens"
---
Quick trip to the Maldives and Sri Lanka, March, 1999
Click here to see what we did in Sri Lanka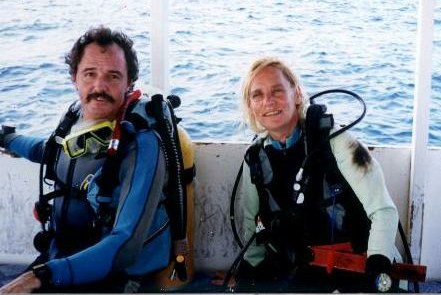 It wasn't our first trip to the Maldives. The last time was in May of 1989. On that trip, Bobbi, Glenn, Dusty, and I took a PIA flight from Muscat to Male and ended up on the inexpensive and unpretentious island of Velasaru (no longer exists as a resort, unless it's been renamed). Diving only took place in the morning because of the monsoon winds, but the windsurfing every afternoon was superb. The diving sites were attractive, but I always felt I had come at the wrong time and could at a better time see a lot more in the water, so when we had the chance to get away for 9 days on the occasion of the pilgrimage Eid in March of this year, Bobbi and I and Dusty made a return journey.
In 1989 we had flown PIA via Karachi. We were very pleased with the service on PIA and in particular their habit of granting western visitors almost automatic accommodation at their hotel near the airport. On our return journey, I had flown from Karachi to Rawalpindi and continued overland from there up through Gilgit to Karimabad in Hunza, and on over the Korakoram Pass into China as far as Kashgar. This was one of the best short adventure trips I have ever made, combining mountain and glacier walking with exotic Uigar music and culture. The Sunday market in Kashgar is the best I have seen anywhere, ever, even in Africa. But the trip has to be done in May or June, after the snows have subsided and the pass is clear, but before the melt makes the precariously winding road up the Indus valley a dangerous quagmire of mud and landslides. I was in Kashgar on the day in 1989 that Ayatollah Khomeini died in Iran, and that the Chinese army drove the students from Tiannamen Square in far away Beijing.
This time around, I tried to make arrangements in advance by fax and email. The first time we had gone there, we had just flown to the airport and taken what was available. We were lucky that we had found a pleasant place to stay that time, but at that time it had been off season. To maximize a short stay in the Maldives, especially during high season, and if the priority is diving, it is best to make the bookings in advance. I tried contacting several resorts by fax and email, but those I would like to have chosen were either full or not checking email (one responded with a corrupted email containing happy99 virus). Of the very few that responded, I picked the least expensive accommodation where there was a dive center that claimed excellent diving far from the airport. That's how we ended up on Kuredu, in the hands of Pro Divers, neither of which I would revisit or recommend after having spent 5 days there.
Serious travelers are drawn to 3rd world countries despite minor inconveniences because they can enjoy cheap food and services while having the opportunity to visit the ancient and natural wonders within these countries. But nowadays, the trend in many of these countries is to try and fleece visitors in whatever way they can. In Sri Lanka, the hit has appeared in hugely inflated prices levied on tourists wishing to visit the national monuments. In the Maldives, almost everywhere the tourist turns, extortionate charges are levied. I suppose there is a trickle-down effect for the Maldivian people. Although poorly paid on resort islands, they don't appear impoverished, though life for them is simple considering the lavish hotels in their midst. I would imagine though that most of the money goes to the wealthy few, as it does in most societies. The difference in the Maldives is that the money that lines the pockets of the rich comes more directly from the visitors there than it does in other places.
Dusty on the short flight from Male to Kuredu
The bite out of tourists starts at the airport in Male. You get off the plane, find where you've made your booking and sort out how you're going to get there, and sit down in the refreshing sea breeze that wafts across the airport to await the next stage in the journey. Someone takes your order for a bottle of Coke, and the price tag on that, it turns out, is $4. You would be better off, if you have an hour to kill, taking a sea taxi from the wharf at the airport into the town of Male, having a Coke at the nearest shop, and returning afterwards. That would cost you $3.
The $1 ride from the airport into town on the water taxi is the only opportunity that we could find for a tourist to avail him/herself of local transportation at local prices. Once in Male, the only way anywhere other than back to the airport is to charter a boat. A ride to Karumba Beach Resort would cost $20 or $30 for the water taxi, and once there, it might cost $100 for lunch for a family (we stayed there one night our last trip to the Maldives, didn't care for it). Transport to and from the outer islands is pegged at prices in the $70-$120 range for "transfers" which, it turns out, are on the speedboat that operates regular passenger service to and from Male airport. You get an airplane seat for the journey, and the boat is crowded with islanders with crying babies, very nice and friendly islanders, but I doubt they're paying the prices you are.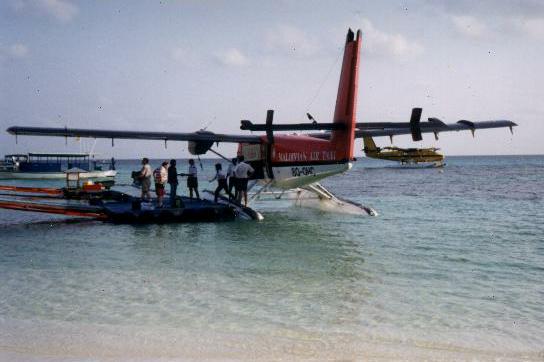 The "airport", wharfside at Kuredu
At Kuredu Island, I felt like one sardine in a tin plane that had just landed and disgorged the latest batch of pax to stoke the fires of the tourist industry that is raking it in on mass tourism. Along with the other dozen arrivals of the moment, you get a drum fanfare and a welcome drink, and before you are shown to your room, you are seated with the other arrivals and given an orientation on routine on Kuredu. You are told you will sit in assigned seating in one of the cavernous open air restaurants there, where you will partake of rather redundant fare. You can vary the monotony in the various bars, but there you will find the beer is pretty much Amstel and something else pretty much like Amstel. Almost as an aside, the hostess (from Finland, it turns out) mentions that there is diving there and that the dive shop opens at 2:30.
So at 2:30 I'm at the dive shop ready to do what I came for. But here I am told, so sorry, but the policy of this dive shop is to never to let the pax into the water until they have had the lecture and the introductory dive on the house reef. There is a group going just now, but of course they have already had the lecture, without which I could never understand how they do things on this island and follow the routine, and they started at 2:00, not 2:30 as we had been informed earlier. So now there is no chance for diving this afternoon and too bad about your wasted day, but come again in the morning, and you can have the lecture then and spend your morning fiddling about on the house reef. I have by this time removed my instructor card from my wallet and I am discretely waving it my adversary's direction, at which point she stipulates that, "No matter if you are an instructor or who you are," you will fit into the routine here, and that means no diving until we've given you the standard lecture and we have seen you do the house reef dive.
I don't think I'd ever been to a dive resort which hadn't made an effort to work me into diving from the first day, so naturally I hoped there must be some mistake I could rectify. Since I couldn't go diving right then, I spent the rest of my afternoon sussing out what was going on the next day. There was for example an all-day dive trip scheduled, so I asked someone else if I could go on that. The all day trips were every other day, so this would be one of only two we could go on during our 5 days there, one day of which was evaporating as we spoke. Sure, I was told, so I booked Bobbi and I as divers plus my young son Dusty, regarding whom I was told I'd have to talk to the manager to make sure it was alright if he came along as a snorkeler. That afternoon, I had to pass back by the dive shop several times (walking barefoot in the sand, never needed shoes in Kuredu) before I could find him. The manager's name was Kimo, and finally we found him at a tea shop, spoke to him for a few minutes, and he ok'd Dusty's participation in the trip. So things were looking good. We'd missed out on diving our first day, but the trip next day would be fun. The all day trips went to the most interesting dive sites, channel crossings as they called them, an hour or so from the resort island.
Next morning, after breakfast, we all reported to the dive shop and tried to figure out what boat we would be on. Passengers' names were listed on boat manifests posted by the dive shop door, but our names weren't up there. We managed to get our gear on the wagon for the all-day boat, but as we made inquiries, it developed we'd been bumped. It had been discovered we hadn't done that essential house reef dive, so we weren't going. Keep in mind that this is a small island, over-run with tourists to be sure, not all of them there for the diving, but the management always know your room number (especially if you want to drink anything or need to purchase any sort of essential). Despite that, these Pro Divers people had not bothered to inform us of their change in our plans. Rather they had waited till we turned up for the dive to tell us, in effect, "So sorry to disappoint you, having come all this way on your expensive dive holiday, but your booking of this prime dive on your very first day here, not having first had the lecture and the house reef dive, is simply not on. We can't be flexible on this, and in a few moments the boat will be leaving, and then there will be no point in pressing the point further." So they had only to stall us for a quarter hour, and sure enough, it all quickly became moot.
We didn't go on the dive. Our assigned solo German table mate did and reported at dinner that they had seen sharks, turtles, rays ... (whew, and can you imagine, a family of three being assigned a fourth at table, a complete stranger, for all meals taken at the resort??). We had done some very pretty but uneventful diving on local reefs instead that day. And it was pretty much the same the next. The next day we went on the all-day dive and saw the sharks, rays, and turtles. And the following day we left. We decided we'd had enough and thought we'd get an extra day in Sri Lanka rather than hang around at Kuredu.
There's a moral to this story. If you decide to dive in the Maldives, and to commit to paying the money to go there and travel to an island and pay the $200 a day room and board while there, not to mention the inflated cost to dive (no water provided on the dive boats, not even on an all-day trip - pax are expected to purchase bottled water from the resort store at about $3 a bottle) -- if you decide you really want to do this, then pick your dive outfit very carefully. You will be stuck with them for the duration of your stay. You can't just blithely pick up and run to the competitors down the street since transportation costs are prohibitive. As you can imagine, my feelings toward Pro Divers were decidedly negative from the start of my stay, and it pretty much made it one of the poorest dive experiences ever in my 30 year diving career. I've NEVER been denied a dive site in my entire diving career, especially since becoming an instructor, and I've never been treated in as impersonal a fashion as I was on Kuredu.
I don't mean to knock them. This guy Kimo and his crew are star photographers (Kimo's remarkable photos decorated the boat we rode back to Male, but on one of our dives, the divemaster hovered over a moray for 15 min. with a video camera rather than lead the dive; Bobbi and I wandered off and discovered an octopus, but the dive itself was rooted to this one rock where the divemaster was filming). They are a professional outfit. You'll be safe with them. They won't get you in over your head. They'll show you some good diving if you stay with them long enough. But don't go there for a short stay, and if you want personal attention and good value for money, consider the Philippines or Thailand for you holiday.
Click here to see what we did in Sri Lanka
This report got a reaction from someone who enjoys diving Kuredu ...
Vance, my name is Clint and I live and work in South Africa. I just wanted to drop you a few lines on your so called trip reports to Kuredu and South Africa ( Especially Kuredu). I did not get upset about your Kruger Park review because I can quiet clearly see that you don't know what the hell you are talking about and you certainly don't understand our people (both black and white) .
But lets talk about Kuredu. I have been to Kuredu 3 times as well as Lohifushi island resort , So I can certainly talk from experience. For a start I think that the lecture and the compulsory house reef dive is a brilliant idea . Think about it Vance , anyone can forge an instructors card and just jump in the water , all they are trying to do is keep everybody safe . And just because you are an instructor (Like myself) that does not make you God !!!! And I agree with the fact that if you think you're too good to do the house reef dive, then you don't dive the next day !
I have dived all over the world (Barrier Reef , Red Sea , Caribbean , Tahiti, etc....) and I have never seen such a wide diversity of marine life in all my travels like in Kuredu .
Maybe you had a valid point about the food , but since you were there they have jacked that up by employing an internationally renowned chef , so that's sorted that out .
Sorry if I sound rude , but when I read reviews like you post it makes me very angry to say the least
My reply ...
Hi Clint,
Thanks for the reaction to my travel reports.
I'm glad you've enjoyed Kuredu. You are entitled to your opinion, and I encourage you to debate it in your own website, trash my opinion, whatever.
When you spend a lot of money to get to a great dive location and are not taken to the best locations, as happened to us ... they could have avoided the whole scene with a proper orientation on arrival in the a.m. We had an orientation to rooms, resort schedule, where to sit at dinner, but inaccurate info regarding opening of dive shop. This caused us to waste a day of our vacation since we couldn't dive first day without the orientation. This led to misunderstandings when they agreed to take us diving on a day trip our first morning there but pulled us off the boat at the wharf. They could have informed us about that in advance but dropped us when expectations were highest. Having missed that opportunity, there was only one more chance for the outer reef while we were there. I found them geared to the package tourist on long holidays. We're not package tourists. We had a short break from school and traveled there with few days to waste. I have never felt so much a faceless 'pax' at any dive resort I have ever visited as I did at Kuredu.
Anyway, thanks for defending them, and I'm glad you enjoy diving with them. I'll have a look at what I said and maybe tone it down a bit.
Of course, I was just a tourist in South Africa. That's cool if anyone can see I don't know what I'm talking about. I often read other travelers reports and find them useful. You take them with a grain of salt.
I really enjoyed your country by the way. My impressions are my perspective, but just that.
Of course I don't understand South Africans. There is a very complicated situation there, difficult for people to understand. I went there to try to bring myself closer to understanding. Perhaps if I am fortunate enough to make another visit or two ...
I appreciate your views. Sorry to upset you about Kuredu. You've obviously had good experiences there. There are lots of reports on Kuredu on the Internet, and anyone can review them and form an opinion. I'm just registering my experience, which unfortunately, was not as positive as yours.
Take care,
Vance
Clint's follow on ...
No Problem Vance
I'm sorry that I was so rude in my last eMail , but I really love Kuredu and the staff.
I'm also sorry that you had a bad experience there and I do understand that you are a very well travelled person and maybe Kuredu just didn't live up to your expectations . Like you say Vance , everyone is entitled to their own opinion , so I'm also sorry.
I read that you wanted to go to Mozambique , well let me tell you that it is one of the most beautiful countries I've ever visited. I drove up to Inhambane in September to do some game fishing and diving , what a holiday . However if you go that far up North from Maputo , don't expect too much luxury on the way , you can still see the scars of the bloody civil war they had over the past 25 years , but the people are friendly and the scenery is out of this world just like the diving . No one has dived Mozambique for 20 years so most of the reefs are unexplored.
Take it from me GO TO MOZAMBIQUE !!
Take care Vance and I look forward to reading about your next adventure, you seem like a really interesting guy
---
Visits since May 1999

-:
Use your browser's BACK button

to return to a previous page

For comments, suggestions, or further information on this page, contact Vance Stevens, page author and webmaster.
Last updated: December 9, 1999
---