The Stevens family homepage at http://www.geocities.com/Athens/Olympus/4631/
Vance's Hiking page at http://www.geocities.com/Athens/Olympus/4631/hiking.htm
---
Aqabat Zhufur, November, 1998
When Vance and friends set out to attempt the mountain-rain walk, they saw a road in the mountains that had been cut to almost 2000 meters. Just over the mountain from the top of the road is one of the most impressive canyons in Oman, the pass at Aqabat Zhufur. With that once remote pass suddenly accessible in a couple of hours walk from the road, Vance and family drove up and spent a day hiking around the gorge of Wadi Halhal, which runs perpendicular from Wadi Bani Khurus to the base of the cliffs of Aqabat Zhufur.
To reach the road, you drive to Tanoof in Oman and then head up the mountain via the recently cut track which you can see clearly from the main road. At the end of the road is the village of Qayut. The village is actually too far if you're heading on foot up the mountain. The jumping off point for that at the place where the road turns downhill just before the village. You'd park there and head up and over the top in an easterly direction.
That's Wadi Halhal in the picture below. You can see where it meetsWadi Bani Khurus. To the left of that junction, a splash of white just at the V in the mountain backdrop, lies the town of Awabi.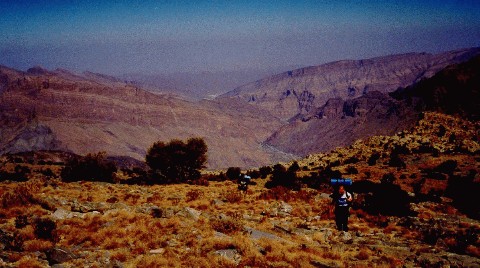 In the picture above, Bobbi and Dusty are walking uphill back over the top with Aqabat Zhufur behind them to the east. Below, they rest from their exertions.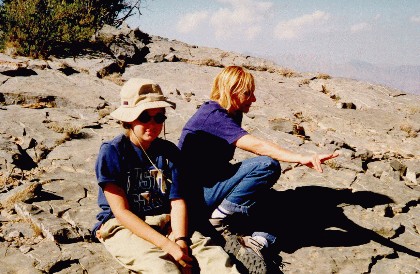 It's hard to convey how impressive the pass is in a few pictures on the Internet.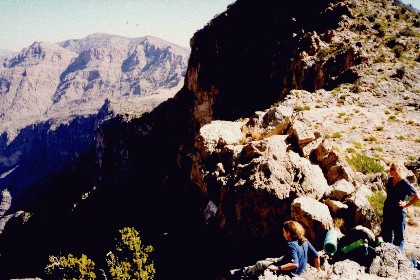 Above, Bobbi and Dusty admire the view. Below, Bobbi balances at the edge. Less than a meter to her left, the world drops away.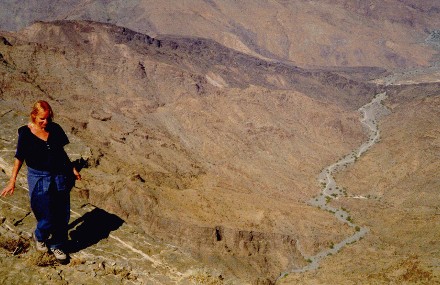 Vance does the ridgewalk in the picture, below.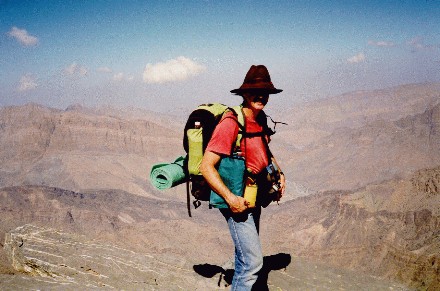 We walk out along the edge of the gorge until we reach a point where descent is necessary. In the picture below, we're checking out camping spots.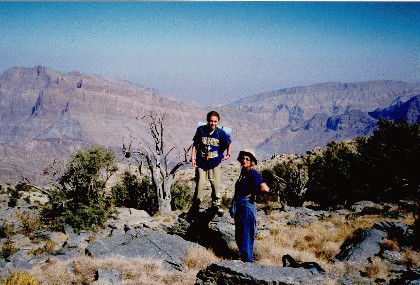 Once we find the right spot, we hang out clothes that are wet with sweat, and maybe from an accident with a water bottle in a pack.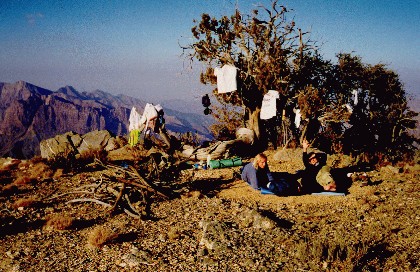 Above, Bobbi and Dusty are looking forward to a well-deserved rest in the long shadows of an evening that will get chilly once the sun drops away. At our campsite by our car the night before, it got down to 50 degrees F. Below, I've walked above the camp to capture it in better perspective. Had we pushed on, we would have dropped down to the shoulder at the left and remounted to the level of the hills beyond.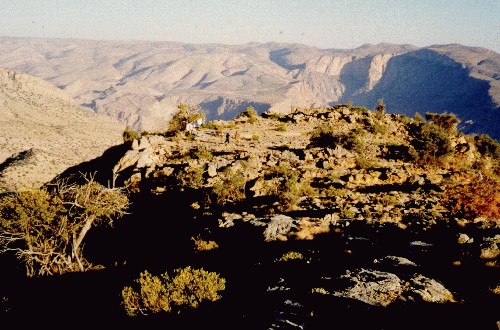 Below, Dusty and his Dad take in the view at Aqabat Zhufur.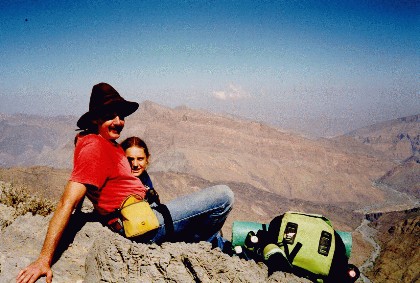 ---
Visits since Jan 1999 -:
Use your browser's BACK button

to return to a previous page
For comments, suggestions, or further information on this page, contact Vance Stevens, page author and webmaster.
Last updated: January 19, 1999
---