Return to the Stevens Family Homepage
---
MusCat's Page
Musky, as we call this guy, was about to step out the evening this picture was taken and was therefore unavailable for comment (in fact, he would only say, "Look, I'm a busy cat. I've got squirrels to chase, so let MEOWt!! Neowww!").

Back in California, Musky used to check in now and then to stock up on cat food when the squirrels prove intimidating or elusive, or to catch a quick cat nap in one of the upstairs bathroom sinks.

This picture was taken when Musky was just a kitten in California. Now he's a big cat, but he still looks about the same.
| | |
| --- | --- |
| In Abu Dhabi, Musky has become a penthouse cat. As you can see, nature bestowed upon Musky the ability to get black cat-hair all over white furniture and white cat-hair all over black furniture, so he now busies himself locating all the blackest and purest white napping places in our apartment. | |
People who stay in our house and feed him over the summer claim they hardly ever even see him (the last people to stay here claim just one sighting in two weeks).
These pictures prove that Musky DOES come out for a good scratching every now and then, at least once a day. IF he likes you, that is.

Musky has a reputation for being something of a recluse among friends who come to visit. Musky must have had some unpleasant experiences on his journey to Abu Dhabi (flying in cat-cargo) so he generally runs and hides when strangers appear,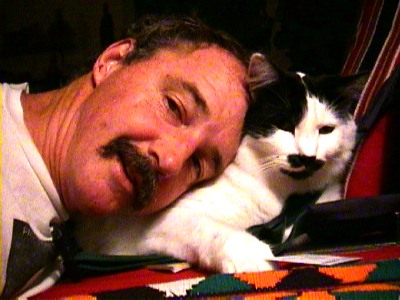 ---

Use the navigation at the top of this page or your browser's BACK button
to return to a previous page

For comments, suggestions, or further information on this page
contact Vance Stevens, page webmaster.

Last updated: July 19, 2001 in Hot Metal Pro 6.0
---