Main Homepage: http://www.vancestevens.com
---
A Family Vacation in Costa Rica, August 1998
This summer (1998) Vance had decided to attend a conference in Melbourne, but the rest of the family found it inconvenient to join him there. A little before Vance left Abu Dhabi for Oz, Bobbi and Dusty had gone to California to collect Glenn and accompany him to Houston, where they spent a month before Vance was able to join them there.
In Houston, Bobbi busied herself arranging a trip to Costa Rica for when Vance arrived. The trip was phenomenally expensive, like around $1000 a day. A bit over budget, but this included:
tickets for 4 from Houston to San José and back
two rooms in a 4-star hotel for the 3 nights we would be in San José, the capital
the ultimate in taxis: a small plane to fly just the 4 of us from San José to Drake Bay and back again 4 days later
4 days of 3 square meals and 2 rooms oceanfront accommodation at the very relaxing Drake Bay Wilderness Camp, http://www.drakebay.com
unlimited use of canoes and kayaks while at the camp
a tour of Corcovado Nature Reserve near Drake Bay, a yuppie ecotourist destination and home to the most diversified flora and fauna on the planet, according to a recent and oft-quoted National Geographic article
diving for two days (4 dives x 4 divers) off Caño Island near Drake Bay
a day of rafting on the Reventazón River in the vicinity of San José
the services of a guy named Mario who met us at the airport and took us in his van whenever we needed to get from a San José airport to anywhere else
So how was it? Was it worth it? I won't be drawn into that one, but for those who really want to know, here's what we did:
One morning we flew from Houston to San José on a Continental flight. The flight was only 3 hours, leading one to wonder why more Americans don't make this trip as often as they go to, say, Arizona. A lot of Americans couldn't even name all the countries down here, let alone tell you where they are on the map. Then again, I've heard of postal workers who wouldn't accept mail for New Mexico without foreign postage, which shows there's no limit to the ignorance of some.
If this graphic comes in slowly, our apologies, but you can scroll down and read on while it's loading.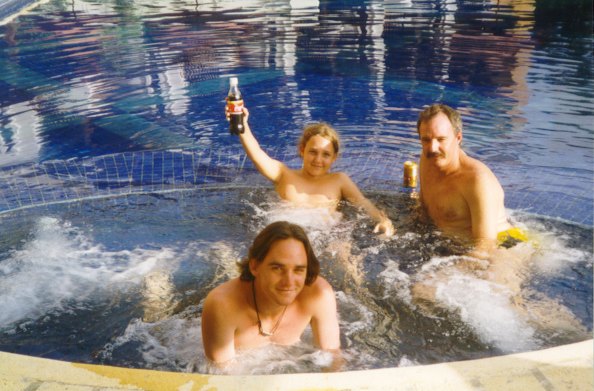 The other graphics on this page are all thumbnails. Click on them to see big pictures like this one.
San José
The San José airport was friendly low-key. We were met there by Mario with his van and driven to the Alta Hotel, which was a very nice hotel 9 kilometers from downtown San José. I went for a jog, made it halfway to town, and almost got knocked down a number of times by passing vehicles on the 2-lane ribbon of tarmac. Plus the fumes of unmuffled exhaust was not conducive to running, so I didn't run any more in San José. Not only that, but the location of the hotel was not conducive to exploring San José either.
Our first day in town, we got cleaned and rested and sussed out how to get a bus into town. Impressions? Signs were all in Spanish but enough people spoke English that opportunities to practice Spanish were infrequent. The flavor was Latino but not as "foreign" as a small town in Mexico. Downtown San José was bustling, people in the streets seemingly prosperous on a 3rd world scale but not dressed particularly chic, crowds punctuated with the occasional beggar, some sleeping on the streets or rummaging through refuse tips. Downtown we browsed about the crowded Mercado Central and worked out the price of beer (cheap, usually less than a U.S. dollar). There was a marimba band with elderly people dancing in the pedestrian calle under the trees near the Plaza hotel. We wandered around working up an appetite until we found a place that looked sympatico, with simple booths and tables and sweaty cooks and waitresses, like food and beer for 4 were cheap. A dog followed us into the restaurant off the streets and went unnoticed for a long time amid the earthy clientele. We ate rice and beans and bland meat dishes and drank beer and paid with a credit card.
The Alta Hotel was a poor choice of hotels for a family without transport. At 9 km from town, it would have made more sense to stay in Cartago, 22 km distant, and have a town around and frequent bus service. Buses along the ribbon of road ran every 20-30 minutes, not too bad a schedule, but if they were full, they dropped passengers short of the bus stops and continued their journey without picking up those waiting. Once we spent an hour trying to get a bus at peak evening time. The bus was about a dollar round trip, whereas taxi fare into town and back was $25, for which price you might as well rent a car. I don't know why I like recording these picayune details. Anyway, when we went to San José, which we did each evening, perhaps after a swim in the pool at our hotel, we tended to stay near the bus terminal on the Paseo Colon. The life there was frenetic, hawkers shouting out the price of a portion of avacado; shoppers, the kind who ride busses, coursing between fruit stalls and sidewalk vendors; crowds rummaging through the sweetbreads in the panaderias; street cleaners running behind trucks charging up the paseo picking up plastic bags before street urchins could spread the trash about; ambulances heading out from the hospital opposite the terminus; and lots of places to sit and eat or drink a beer and watch the life go on. One place we settled into a couple of nights in a row had chicken, rice and salad for only $2, a favorite with our kids. The place was run by oriental immigrants, so an interesting distraction there was trying to decipher the heritage of the customers. They had a huge TV that turned eating there virtually into a trip to the cinema.
There was a brewpub nearby, perhaps the only one in San José, at least the only place we knew of to escape the watery redundancy of the locally produced Imperial or Pilsen beer. The brewpub produced 7 kinds of beers in brass vats stewing behind the bar under the label Cabeza Grande. Five of these were available when we were there, and a sampling of all 5 could be had for less than half a dollar. A pint of remarkably flavorful light or dark wheat, stout, or pale ale was just $1.50. Bobbi, for some reason, always ordered the one called "sexy". The pub had some hearty bocas as well: beany nachos, bbq cerdo, a meaty mexican stew, platano ceviche ...
Drake Bay
Our second day in country we were ready at 6:45 for our drive to the airport. We had seen the planes doing night takeoffs and landings in the bowl into which San José had grown from the veranda of our room the evening before. Mario was there on time, but the hotel had forgot to get our coffee and muffins ready (maybe we should have gone for the $2000 a day tour). Anyway, Mario assured us we had plenty of time and after only a fifteen minute delay, all of us standing around waiting (we even went down to the restaurant which was supposed to be open at 7:00 - no one there, ah the frustrations of pre-booked travel), we got our Styrofoam cups of coffee and headed to the small airport in the hills next to the shanty town where the small planes took off from a strip of tarmac to fly tourists and other ricos around Costa Rica.
There was more coffee in the waiting room of the Tasca office. We were surprised that we had a small twin engine Piper all to ourselves. Shortly our luggage was stowed in tiny fore and aft compartments and we were heading over the hills ringing San José, me in the copilot seat, with 7500 feet on the altimeter (San José was at 3300). Once over the hills we descended into the clouds where, having had some experience with the vertigo of instrument flying, where everything seems to be whirling in circles, and also having flown in Papua New Guinea where plane crashes abound in clouds over mountainous terrain, I worried a little about where the ground might be exactly, especially as we descended on IFR down below 3000 feet. When we cleared the clouds though, I saw we were over the ocean. We landed a few minutes later on a dirt airstrip carved from jungle just beyond a half-moon beach on a cove lapped with frothy white lines of Pacific breakers.
Here we have just landed at the airstrip near Drake Bay and we are loading our stuff on a 4x4 for a drive to a beach where a boat is waiting to take us the rest of the way to Drake Bay Wilderness Resort.
Click on a pic to see the big picture.
There was a young fellow at the landing strip from the farm run as a sideline by the patron of the hotel who had come out to receive the carp swimming in the water contained in clear plastic bags that had accompanied us on the short plane ride. Pretty soon old Herbert, patron owner of the Drake Bay Wilderness Camp, showed up in a Land Rover to take us down a dirt track to the seashore where there was a boat waiting at a spot off the beach where the waves weren't so bad and the boat could get close to shore where we could wade out to it and climb aboard while the locals who worked for Herbert schlepped our bags. The boat cut across a palm fringed bay or two and pulled up at a dock tucked inside the mouth of a river. There we disembarked and were shown to the dining room to fill up on homemade cinnamon rolls and pintogallo (a rice and bean concoction) while our bags were taken to our quarters.
The Drake Bay Wilderness Camp was a collection of practical and appropriate but by no means luxurious structures arrayed along a strikingly prime bit of tropical seaside real estate. All rooms had views of the bay and of the boats anchored there beyond where the breakers curled around the headland. The boats included a rusting green landing craft, and a windjammer called Aile Blanche just returned from a trip to Cocos Islands, lying at anchor with aft sail rigged to keep it into the wind.
The first view below is of our cabin at Drake Bay, taken from a kayak. You can just see the hammock to the left of the pointed rock at the center of the pic.
Click on a pic to see the big picture.
The "green season" rain daily brushed the vegetation and kept the lawns green. Between a couple of trees outside our room was a hammock that Dusty came to favor, and he could sometimes be found there napping even in the light rain. Near that was a stone monument that had been donated by the city of Plymouth in 1979 to commemorate the visit of Sir Frances Drake in the Golden Hind 400 years earlier. Sir Frances had watered at Caño Island just off the coast and had "probably" visited the bay that bears his name, according to the plaque. These artifacts coexisted, perhaps temporarily, with a shoreline lapping on black volcanic rock. At the end of the property, a double-brick path led through encroaching jungle to tide pools formed in the rugged black rock.
Our simple rooms had tile floors with twin and double beds with sheets and optional blanket under a ceiling fan and neon light. There were lamps on the beds and in the bathrooms, which had solar-heated hot water showers and flushing toilets (not to be taken for granted - ok, for $1000 a day, maybe you can take flush sit-down toilets for granted). There were cabinets and luggage holders in the rooms, but the only tables were outside on the veranda which we shared with the kids. There were plenty of straight back and more comfortable bamboo chairs out there, and this was a pleasant place to sit when the rain dribbled off the thatch overhang. Sitting in the rooms was pleasant too since the slatted blinds raised to allow a 90 degree ocean and garden view. More likely in the rooms, sitting soon led to a more prone configuration so that napping was the activity most likely to be conducted there during the daylight hours. Fortunately, during those hours, we were not often there.
Next to our room on one side was the dive shack, and on the other (at a discrete enough distance not to be noisy) was the open-air bar, as nice a place to have a sundown libation as could be imagined. Barstools were set around the perimeter as were a dozen easy chairs, so that guests could set their drinks on the rails and look contentedly out to sea. The glow of sunset was just visible from there, though we sometimes carried out drinks out to the tidepools where we could catch the real thing unobstructed from a pair of benches there. Back at the bar, we could chat up Michele, the part time bar mistress and part time 3rd grade teacher at the school whose only student was Herbert's daughter. Michele was attractively svelt, on the rebound from a deceptive romance, and had chosen to chill out at this paradisiacal spot, her choice of all spots in the world or at least in Costa Rica, for getting away from it all.
There were a couple of monkeys living on the property
that liked to come out of the trees and alight on visitors.
Click on a pic to see the big picture.
Our first day at the camp we took a packed lunch and a couple of fiberglass canoes up the river for about a kilometer, as far as we could get at high tide before the river turned into a ribbon of trickling rapids. The kids enjoyed it, Dad portaged his canoe over one rapid before giving up that folly (but got to shoot the rapid back - don't tell Herbert!) and the mini-adventure got us through the day which was soon enough directed at happy hour with bocas, Costa Rican snacks of pork bits and chips with bean and salsa dip. After that was dinner and early bedtime.
This was the routine at Drake Bay Wilderness Camp: up early for a filling breakfast before the day's outing, pack lunch on the hoof wherever we happened to be, back in time to bathe and relax before heading for the bar for bocas and a drink or two, dinner afterwards, and early to bed to sleep as much as ten hours as the sound of rain hammered the thatch roof and trees, hopefully to be greeted by sunshine in the morning.
Corcovado Nature Preserve
We had booked three outings during our stay at Drake Bay: a tour of Corcovado Nature Preserve and two days' diving. Because the weather and sea conditions were dodgy our first day there, we went to the park first. We were taken in a boat a few more bays over. There were no roads in this area, at least none marked on a map. We were left on a beach (one of the usual wade-in-surf landings) in the company of an agronomist named Pedro who proved to be very knowledgeable about the forest and the flora and fauna there.
Click on a pic to see the big picture.
From the beach we hiked into the park. The trail started in secondary growth outside the park. The area had been cut down by farmers some years before but had rebounded nicely. At some point we stopped to observe a clan of spider monkeys, at another a flock of toucans. Once into the prime forest, we found hooter monkeys in trees up to 400 years old, babies compared to our redwoods. Nevertheless, Pedro clearly loved his babies and walked us off the trail to find specimens with huge ribbony roots we could get lost in, or with trunks elevated on a delta of roots splayed like stilts. The forest was full of wonders, such as a huge grey grasshopper that took flight straight at us in a flurry of red underwing, or blue-crowned blackbirds, spiky trees best left alone, and various kinds of ants including leaf cutters who made lace of entire plants. We paused in a cocoa grove to savor the succulent fruit, and Pedro took a coconut brown from languishing on the beach, pried it open with the aid of a stick, cracked its shell methodically with a rock, and treated us all to its milk and meat.
Click on a pic to see the big picture.
Diving off Caño Island, August 8th & 9th, 1998
The reason we had come to Costa Rica in the first place was for the diving. The magazine article on diving in Central America that prompted our decision to invest in this particular trip spoke highly of the variety of fish life to be found in Costa Rican waters. In particular, it said that Caño Island had the best vis in all of Costa Rica, and that the island was home to manta rays and bull sharks. As one might expect, though this might have been true at some times of the year, we had lousy vis, we saw no mantas, and the only sharks we saw were the ubiquitous white-tip.
In order to come to these realizations, we had to spend two days with the competent and personable divemaster José. Like Pedro and the forest, José had been at Drake Bay for 5 years and knew his fish and where to find them. He took us twice diving at Boha del Diablo, a network of underwater canyons comprising two kilometers of reefs northwest of Caño, and to other spots such as Paraiso on the northeast side of the island.
Click on a pic to see the big picture.
The diving was compromised by a number of factors. First, the vis was not good the first day, though it improved the second. Also, currents were a problem at Baho del Diablo. We were diving with two ladies. The one which José referred to as La Señora Gordita was a competent diver but in her 50's and out of shape. Then there was Dusty, also a competent diver for his age and experience, but just 13 and just certified. So due to ubiquitous currents, we weren't covering any ground on these dives, and due to experience levels and possible air consumption limitations, we weren't going deep. Therefore the fish we saw were whatever was hanging about in the rocks or canyons wherever we happened to go in the water, or whatever sharks happened along, and the sharks would turn tail and avoid us as soon as they discovered us in their territory.
Still we had some memorable dives, in particular the 2nd one on our first day. The cruddy vis and nondescript rock formations made me feel as if I was back in home waters off Abu Dhabi. Yet the vis hid us from the white-tips as well, so we kept coming upon sharks, singly and in groups. I've seen lots of sharks (see my pics from Australia) but it's special to be diving around them with my family, especially to have Glenn with us and both boys and their mom diving at the same time. On that dive we saw a turtle as well, no big deal coming from the UAE and Oman, but always a treat nonetheless.
To sum up about the diving off Caño Island, vis was poor when we were there and currents kept us close to the point we went in (I don't know why we weren't just allowed to drift, but we were told the animals were mostly in one particular spot, so maybe that's why). We saw a few small speckled rays and lots of green morays, plus jacks, snappers, parrot fish, angel fish, schools of grunts (but not as big as the schools in Oman), one school of barracuda (which is sometimes ALL we see on dives in the UAE), and garden eels, which are kinda cool if you see them before they see you. I remember at one point José taking pains to point out a single coronet fish, a bland fish you see constantly in the UAE. He also pointed out small delights such as the razor fish, which ducks into the sand when pointed at too much. Aside from the abundant sharks, we could have been diving in the UAE, and if it's sharks you want, I can think of a lot better places to go that are a lot cheaper to get to. So if we do return to Costa Rica, unless it's to Cocos Islands, I doubt if it will be for the diving.
Kent Ash, KAsh100000@aol.com, was kind enough to send this reaction, Oct 31, 2001:
Read you review on Costa Rica and Caño Island. I have visited Caño Island many times and agree that in August the vis is not at all good. Anytime before the end of December and after the end of May you are not going to have the best diving experience. Currents can get rough with 5 foot seas, where even the sharks are hanging on. It would be a great drift dive, then again at 10 miles out and rough seas not a good idea. Currently I am working on my Instructor's rating with PADI. My suggestion is to dive Caño with experienced divers only for obvious reasons, and dive there January thru March for the best experience. I have heard that Drake Bay has set up emergency DAN evacuation standards for divers in the last 2 years as that was the talk in progress when I visited 2 years ago. Jose is well and living in the LA, California area with his new wife. Hope you are enjoying your diving in DBhai..... Kent Ash
---
Leaving Drake Bay: We go by boat to a beach where our luggage is hauled through tricky surf while the crew struggle to keep the boat aimed into the waves, and we transfer to a second small boat for the short run up a backwater to the landing strip.
Arrival at the creek-side landing strip to await the plane which eventually lands and is loaded with our stuff, and we pile aboard for the hour-long flight back to San Jose. Click on a pic to see the big picture.
Rafting the Reventazón, August 10th, 1998
If we do return to Costa Rica, it might be for the rafting. The river to raft in Costa Rica is the Picuare. Some rafting companies do overnight trips on the river, camping midway in the national forest there. The river is supposed to run through jungle with opportunities to spot wildlife, and the rapids are grade III and IV.
Because we were doing the family thing this time around, and because not all in the family were familiar with rafting and rapids (and mainly because I didn't arrange the trip) we did the Reventazón River instead. The Reventazón runs parallel to the Picuare but runs along hilly coffee plantations, flat sugar cane fields, and what's left of the tropical forests there. The rapids on the section of the river we ran were all grade III.
I was a little disappointed on the bus ride out to find that our time on the river would be just two hours, especially as we'd booked the easier of the two rivers. However, once on the river, we found that it was two hours of almost continual grade III rapid. And these were real grade III's. By that I mean that the rapids were capable of giving everyone aboard our raft a wild fun ride, but at no time was the raft itself in any real danger of going over. One fellow fell in once and even almost repeated the feat, so he was able to provide the entire crew with a sense of teasingly vicarious danger. The grade III's were at times what I would call a grade III+, in that there were standing waves in the river to toss the bow of the boat up, but no need to high-side them. There were also holes of whirling whitewater which could suck the side of a raft under had we not had momentum, but we had the momentum, and here again we all got wet with spray and enjoyed the cheap thrills.
Click on a pic to see the big picture.
As on the Tully in Australia, the thrill of the trip was partly in the aura of perceived danger, so the guide, Giovani, knowing he didn't have to be particularly cautious, would order all hands to paddle forward and thrust the boat suicidally onto a rock, so the side would ride up, the back would swing around, the water would wash aboard, and the boat would helicopter through the rest of the rapids. The kids loved it.
Click on a pic to see the big picture.
At one point near the end of the trip, we did actually get hung up on a rock in one of the most serious rapids on that part of the river. We nosed up the rock and got pinned there by the rushing water. For a minute or two, we were stuck fast. Giovani ordered everyone to paddle forward. When that proved futile, he shouted, "Back paddle!" All hands thrashed the water in backward motions, but the raft stayed stuck where it was. As fruitless teamwork began to dissolve in confusion, I stuck my paddle in the water and held it so that the pressure from the water rushing by would create a pull effect. Perhaps Giovani was doing the same thing from the stern. In any event, the raft reacted by pulling suddenly off the rock and spinning through the rest of the rapid, disgorging us safely downstream. That was as close as we came all that trip to getting dunked simultaneously.
Click on a pic to see the big picture.
One rapid later we were leaving the river along with half a dozen other boats and 7 or 8 times as many rafters that made the trip that day. There was a hearty lunch of barbecued chicken breasts, rice, beans, stewed veg, sweet stewed platano, tomato and onion salad, tortilla, tamarindo juice, rich coffee probably from the local hillsides. Delicious! I had two helpings of everything.

Use the BACK button to return to a previous page or Navigate tothe TOP of this one

For comments, suggestions, or further information on this page,
contact Vance Stevens, page author and webmaster.

Last updated: November 1, 2001 in Hot Metal Pro 6.0